Manage
Learn to apply best practices and optimize your operations.
Cloud computing: Ecosystem challenges and how to navigate them
Channel companies can find a wealth of opportunities in cloud ecosystems, but must take care to navigate challenges such as vetting partners and addressing liability concerns.
FROM THE ESSENTIAL GUIDE:
Many channel companies view their ability to collaborate with partners to build IT offerings on cloud application platforms as a vital part of their strategy.

Download this free guide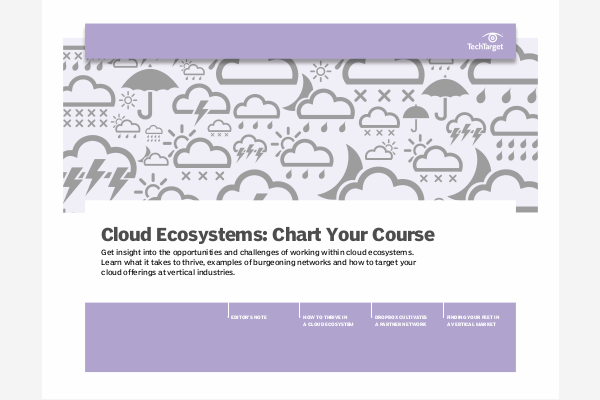 Download: How to thrive in a cloud ecosystem
In this 17-page guide, learn how to tackle the top challenges that occur in cloud ecosystems, take a closer look at specific ecosystems and partnering considerations and realize how to verticalize your offerings to specific industries.
By submitting your personal information, you agree that TechTarget and its partners may contact you regarding relevant content, products and special offers.
You also agree that your personal information may be transferred and processed in the United States, and that you have read and agree to the Terms of Use and the Privacy Policy.
This action plan has three aims: to strike valuable business partnerships, strengthen customer relationships, and develop go-to-market ready, customized offerings made with the latest technology. Channel partners, however, are finding that it takes various approaches, skill sets and business acumen to best leverage a cloud computing ecosystem built on core cloud offerings and third-party apps.
To extend the core set of capabilities on cloud platforms such as Salesforce, Google, ServiceNow and Oracle Cloud, systems integrators, consulting firms and independent software vendors (ISVs) are tasked with configuring and customizing these platforms to close the gaps in technology and provide functionality that vendor platforms often lack. Those IT solution providers and their partners collaborate on ecosystems tied to vendors' cloud platforms in areas such as finance, fulfillment and scheduling, ERP and marketing.
To expand the reach of these platforms, cloud ecosystems are also evolving around industry-specific fields such as the telecommunications and life science industries. Another area of development: cloud ecosystems for niche business processes such as document management and business process management offerings.
In this rich technological environment, channel partners, customers, ISVs and vendors are tapping into a plethora of opportunities, observed Saideep Raj, managing director at Accenture's Cloud First Applications division.
"From a client's perspective, they want to cover the entire scope of their business processes using an ecosystem that can address any functional gaps not addressed by the main platform. As a result, the main cloud platform vendors see greater adoption and increased stickiness. Additionally, ISVs are able to use these channels to expand their reach," Raj said.
Raj noted that channel partners' ability to get the best results from collaborating in a cloud computing ecosystem will depend on several factors including how well they evaluate their customers' needs, their companies' overall cloud capabilities and their ability to stay abreast of emerging IT trends.
Navigating ecosystem challenges
To address persistent challenges, channel partners need an in-depth understanding of the business process and technology issues that are impacting their clients. They also must have skilled people to support offerings in the market, as well as agreeing on the commercial terms that govern how the technology will be consumed and priced, along with intellectual property protection and arrangements around liability.
"Customers don't want to buy a solution and then find out they have to get agreements with 10 to 15 different players that built the components," Raj said. "Furthermore, companies involved in the cloud ecosystem need clear arrangements around who is liable if something goes wrong."
As Accenture works through its own partnerships, (Accenture is a Salesforce partner, and both companies have invested in Vlocity Inc., a cloud software company with a focus on vertical applications), Accenture executives noted that another important aspect of managing relationships in the cloud computing ecosystem is that channel partners should have a keen understanding of their ISV and cloud vendor roadmaps.
"If you are not tied into the roadmap of companies that you are partnering with in the ecosystems, what you could find yourself doing is building out features that ISVs end up providing in the near future and obviously that's very onerous," Raj said.
To make sure channel partners get the most out of their cloud ecosystem experience, Raj identified the following actions as important for companies seeking to differentiate:
Providing technical viability;
Positioning the offering for the clients in particular markets; and
Making sure issues around reliability, security and performance are addressed.
Jeffrey Kaplan, managing director of THINKstrategies Inc., an IT consulting firm based in Wellesley, Mass., said companies involved in cloud computing ecosystem projects need to be focused on the same target markets and key buyers, and must be clear about the value-add their product or service delivers.
He noted that IT solution providers should be confident they have the right APIs and other integration capabilities to interoperate with offerings from, for example, Salesforce and ServiceNow. Another approach to take is being able to build a close working relationship with the partner managers at the corporate level and sales managers in the field to ensure successful co-marketing or sales efforts.
"Success in the cloud market depends on a strong partner ecosystem, as long you have a clearly defined value-add," Kaplan said.
Partnering with cloud platform ISVs
One company that has expanded its reach through partnerships with ISVs that collaborate on offerings around Salesforce platforms is Appirio, a cloud solution provider based in Indianapolis.
Explaining how these partners help the company build offerings for customers around worker and customer experiences, Appirio's client partner, Mike Martin, said the company has solution partner agreements with companies that integrate with Salesforce and enhance functionality. Those companies include DocuSign (electronic signature), Conga (document generation and mail merge) and CallidusCloud (configure, price and quote processes). Appirio also works closely with cloud integration providers such as Dell Boomi, Jitterbit or Informatica to help customers implement middleware offerings.
"Our relationships with other partners in the ecosystem broaden the work that we are able to do for our customers," Martin said.
Our relationships with other partners in the ecosystem broaden the work that we are able to do for our customers.

Mike Martinclient partner, Appirio
He added that when looking for partners to work with, Appirio typically scouts for companies listed on Salesforce's AppExchange, a business app store that features thousands of enterprise and small business applications.
Company executives charged with selecting companies in the AppExchange take three factors into account, Martin said. The first is cost. Appirio looks at the cost of building and maintaining custom functionality versus buying an app that is already built and maintained by the ISV. The second is scalability. Appirio helps the customers' IT team determine if they have the capacity to build and support a custom app. If not, a managed paid app may be the way to go. For the app, Appirio determines if it is built to scale with the business, especially paid apps that have regular updates coming from the vendor. The third factor is functionality. Martin said Appirio wants to make sure the app or partner's functionality meets the core requirement or has enough flexibility within the app to meet the use case.
Establishing a vetting process
Not every company depends on Salesforce's AppExchange. Executives at Bluewolf, a global consulting agency and Salesforce partner based in New York, said their practice is to search for companies outside the AppExchange and vet their offerings.
Bluewolf, which was acquired by IBM in May, conducts a thorough vetting process of companies and their technology explained Corinne Sklar, global chief marketing officer. The evaluation includes looking at the viability and financial stability of the potential partner, as well as assessing their client roster, client success stories and an evaluation of the company's technology.
"There are so many IT partners out there today, which is a great thing, but our clients are depending on Bluewolf to bring vetted solutions that can scale to a midmarket or an enterprise client," Sklar said. "We know this ecosystem inside and out and can help our clients make that decision around which is the best ecosystem partner to leverage."
As Bluewolf continues to create IT offerings in the areas of building its clients entire customer lifecycle management systems, and embarks on new areas of growth in the telecommunications and healthcare life sciences markets, Sklar said the cloud ecosystem's focus on technology isn't the only factor that can drive innovation and yield business value.
"Technology is just technology; it's a tool. The reality is that for organizations to get value out of this constant innovation they have to have a culture and processes to drive speed and agility in their own businesses," Sklar said.
She noted that leveraging the power of the cloud starts with people, process, and a culture of innovation, and while there's a lot of work involved in building cloud offerings on cloud platforms, a majority of the work that Bluewolf does is focused on preparing organizations for that change by building executive sponsorship, governance and that pace of innovation to leverage those offerings.
To take advantage of cloud ecosystems and the offerings partners develop, Sklar said, clients need to do their homework before they embark on a transformational project with cloud technologies like Salesforce.
"Organizations need to focus on defining and aligning around business outcomes," Sklar said. "They need to know that if they say they want a Salesforce solution that gives them a 360 degree view of all their customers, Bluewolf needs to know what business value that information will bring to them."
Sklar added that cloud ecosystems work better when partners know the metrics that companies are looking to drive in their business. She noted that if channel partners can help their clients prioritize and define these metrics and align that with ISV or cloud partner roadmaps then customers will see more value more quickly in their business and be on their way to seeing more return on their investments.
Assessing software vendors
As companies sort through the best ways to navigate cloud ecosystems, assessing software vendors and their approach to partners and customers is a good place to start, said Marc Talluto, global ServiceNow practice leader, Digital Applications Global Business Services at Fruition Partners, a CSC company that provides cloud integration offerings.
"If they have a captive market or massive lead with limited competition, the ecosystem may revolve too much around the vendor with minimal flexibility for customers and partners," Talluto said.
Headquartered in Chicago, Fruition Partners is actively engaged with ServiceNow and numerous third-party software vendors that sell both complimentary products (e.g., Bomgar for remote control) and some that directly compete (e.g. Numerify for reporting).
He added that if the software vendor sees partners as valuable solutions providers, then you'll see mutual joint investment with robust commitments, but if partners are seen as resellers and essentially a sales channel, then there will be limited investment or innovation in the ecosystem.
Another way IT solution providers can navigate cloud ecosystems, Talluto said, is to ask customers what it's like to work with software vendors on commitments, product issues or contract negotiations. Answers to these questions will give channel partners a true sense of how things really work. Customers can share their experiences using IT offerings and provide insights on companies that are part of the cloud computing ecosystem.
In an IT environment where innovation moves at a fast pace and clients can quickly change their cloud options, channel partners can play a critical role in guiding their clients through the complex process of selecting the right technology and IT team to drive business process improvements.
"There's an enormous growth opportunity in cloud application platforms around industry verticals and the expansion of cloud ecosystems across larger and more complex business processes," Raj said. "As cloud ecosystems are driving that change, channel partners can help customers ignite innovation, adapt to their changing business environment and take advantage of the latest cloud solutions."
PRO+
Content
Find more PRO+ content and other member only offers, here.