News
Stay informed about the latest enterprise technology news and product updates.
News briefs: AWS price cuts and VMware public cloud; taxing the cloud
This week, a feud heats up as AWS prices drop and VMware preps a public cloud. Plus: States debate cloud taxes; Rackspace updates its private cloud.
Looking for something else?
TECHNOLOGIES
Amazon-VMWare feud: As AWS prices drop, VMware talks tough
The heat in the competition between VMware and Amazon Web Services (AWS) was hardly higher than at last month's VMware Partner Exchange, when VMware President and Chief Operating Officer Carl Eschenbach clarified: "I look at VMware and the brand reputation we have in the enterprise, and I find it really hard to believe that we cannot collectively beat a company that sells books."

Download this free guide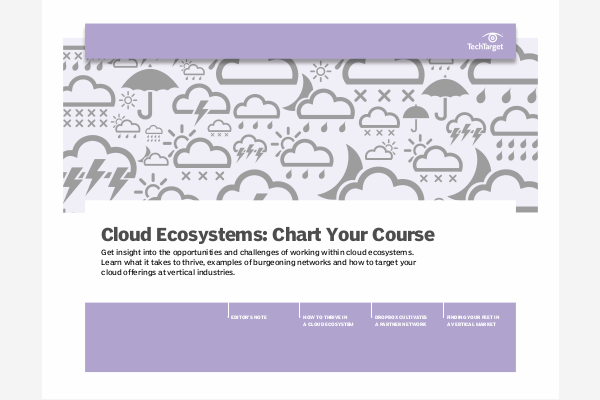 Download: How to thrive in a cloud ecosystem
In this 17-page guide, learn how to tackle the top challenges that occur in cloud ecosystems, take a closer look at specific ecosystems and partnering considerations and realize how to verticalize your offerings to specific industries.
By submitting your personal information, you agree that TechTarget and its partners may contact you regarding relevant content, products and special offers.
You also agree that your personal information may be transferred and processed in the United States, and that you have read and agree to the Terms of Use and the Privacy Policy.
Amazon recently offered a free trial of its Trusted Advisor cloud monitor, announced another price reduction for its Elastic Compute Cloud (EC2) servers, and slashed costs for its DynamoDB scalable database service; all moves indicative of a company with the clout to take risks.
VMware is anything but complacent in its pursuit of the public cloud and corporate workload. VMware still dominates the server virtualization market and has extended its heft into the private cloud, while its recently debuted private beta offering for a public cloud service shows the company's evolving focus. As analysts and bloggers noted, VMware will have to stay competitive with pricing -- as well as innovations -- if it plans to outmatch a certain tech powerhouse with a book-selling hobby.
Canada gathers steam in cloud computing
Canada climbed three spots on The Software Alliance's 2013 Global Cloud Computing Scorecard after passing new copyright laws and improving broadband access last year.
The country is focusing on continued improvements to facilitate cloud computing. Included in these efforts is the establishment of a new research and development program, Always On Computing. The initiative leverages replication technologies across multiple data centers, using next generation data center architecture to achieve high availability.
At the Canadian Cloud Council's third national Cloud Matters conference this week, policy and business leaders offered thoughts on cultivating the Canadian cloud industry. Six major conference themes echoed some of the same areas of improvement suggested by the Software Alliance, including data privacy, legal policy and free trade.
Idaho looks to step away from taxing cloud
Following last October's bulletin, which clarified the designation of cloud services as taxable property, the Idaho State Tax Commission began auditing a number of companies and insisting on payment of sales tax for cloud software. The backlash that ensued was centered on the tax code's definition of software as tangible property "regardless of how it is transferred to the customer," according to a report from The Wall Street Journal.
Members of the Idaho Technology Council were among those who viewed cloud computing offerings as an intangible service, and therefore not subject to state tax. The council presented a revised version of the Cloud Services Clarification Act to legislators last week, ultimately winning the approval by the Idaho House to define cloud computing as a non-taxable service, as Boise Weekly reported. The debate around taxing the cloud is likely to continue in states across the country, from Vermont and Pennsylvania to Arizona, Indiana and New York.
Dig Deeper on Cloud Data Center Architecture for Cloud Providers
PRO+
Content
Find more PRO+ content and other member only offers, here.